Steinberg UR22C Recording Pack
UR22C RECORDING PACK
EVERYTHING YOU NEED TO MAKE GREAT RECORDINGS
The UR22C Recording Pack is the complete package for recording high-quality music, podcasts or interviews and for live streaming audio. The compact, rugged UR22C audio interface has all the connections and facilities needed to record in fantastic 32-bit/192kHz quality, with the included ST-M01 microphone and ST-H01 headphones ensuring that you have everything you need to make great recordings.
Capture the subtlest nuance of every sound
Fast, reliable connectivity for maximum peace of mind.
Latency-free DSP monitoring
Features
32-bit/192 kHz audio resolution
The industry-leading converters used in the UR-C series deliver exceptional audio quality, thanks to a maximum sampling rate of 192 kHz with 32-bit resolution. High-quality conversion is a crucial first step to a great audio production and, with the UR-C interfaces, Steinberg's designers invested a huge amount of time, effort and meticulous research in choosing the very best combination of components for outstanding analog to digital conversion. In addition to the great build quality of the UR series, the sound quality of the UR-C models has been refined by carefully adjusting components and incorporating 32-bit converters. These set a new standard for precisely and transparently capturing the subtlest nuances of every recorded signal, ensuring even the tiniest audio detail is maintained throughout the entire production process.
Superspeed USB 3.1 with USB-C
UR-C interfaces feature the USB 3.1 Gen 1 SuperSpeed standard, which provides fast, reliable and seamless connectivity to Mac and PC computers, as well as iOS devices. Together with the enhanced low latency delivered by our newly designed SSP3 chip and latest, most refined drivers, the UR-C series gives you peace of mind wherever you are recording. Also being compatible with USB 2.0 standard, you can enjoy the benefits of enhanced low latency with computers that do not provide a USB 3 connection.
Ultra-rugged build
Built to the most exacting standards, with a robust metal casing, the UR-Cs are rugged enough to withstand all the rigors of the road. Location recording, or just transporting your gear from one place to another, always comes with the risk of bumps, bangs, drops or scrapes. The exceptional build quality of these interfaces means you don't need to worry about the journey — they are tough enough to ensure that, when you set up to record, the high-quality internal components will work perfectly every time.
Latency-free monitoring with DSP effects
With built-in DSPs, UR-C interfaces provide zero-latency monitoring with effects for every DAW, with straightforward control of all routings and settings. Powered by Yamaha's custom-designed SSP3 DSP chip, you can enjoy all the benefits of dspMixFx technology. This offers latency-free monitoring, together with the highly acclaimed REV-X reverb, the Sweet Spot Morphing Channel Strip and Guitar Amp Classics for users of any DAW software. When using Cubase, all of the advanced monitoring capabilities are fully integrated into the application's GUI by True Integrated Monitoring technology and users can choose to control the monitoring capabilities either from Cubase or the dspMixFx application, while the dspMixFx UR-C mixing application allows control of all effects when the interface is used with any other audio software.
Class-A D-PRE mic preamps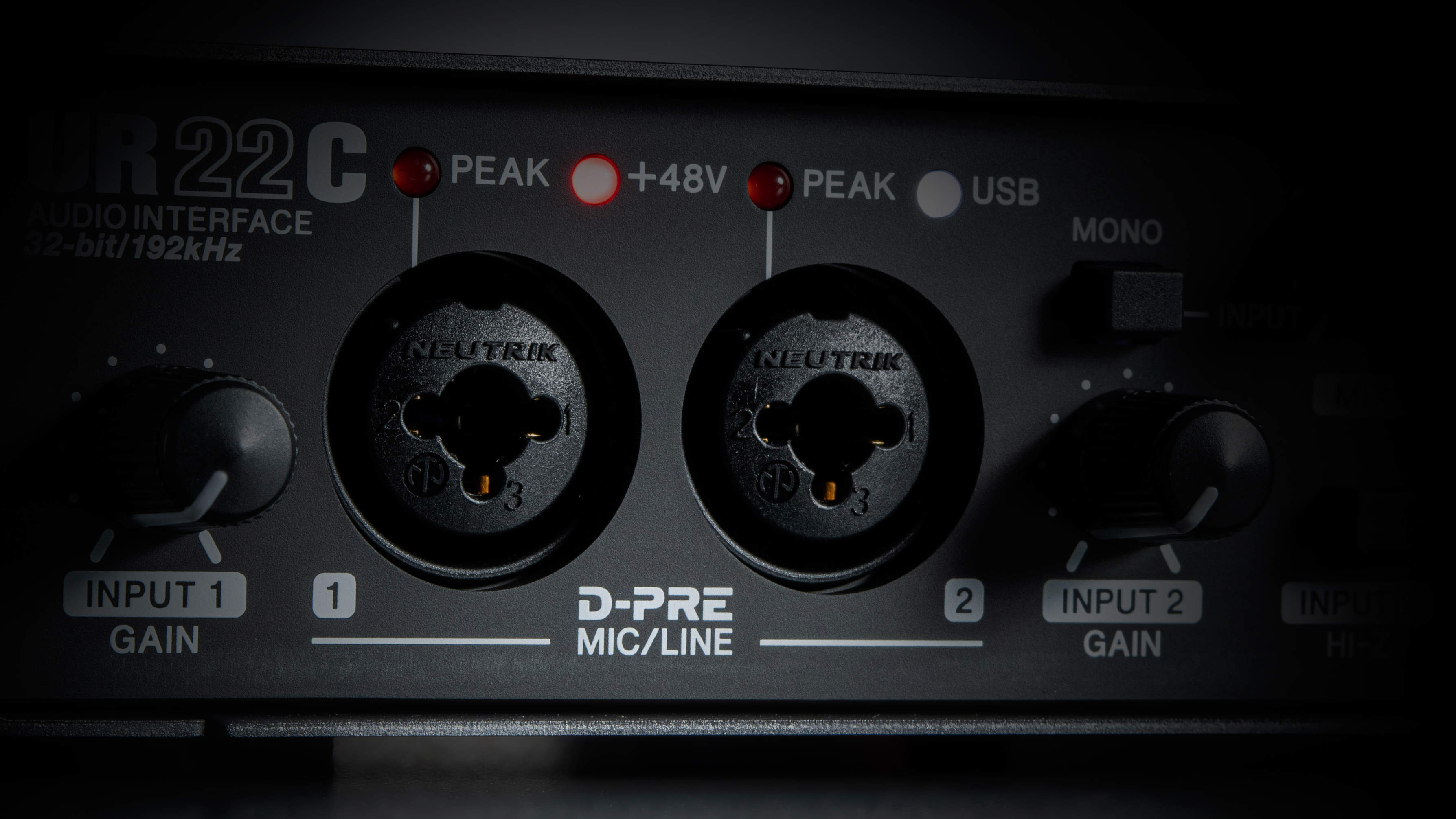 The UR-C series features D-PRE preamps, offering stellar recording quality unmatched in this price class. Yamaha's highly acclaimed D-PRE preamps deliver truly transparent and beautifully detailed sound. A sumptuously detailed high end, immaculate dynamic response and rich, rounded low frequencies are the hallmarks of D-PRE, a very special, class-leading preamp which has been praised by industry professionals and media alike ever since its introduction. And to faithfully capture and replay that warm, transparent sound, the UR-Cs feature AD and DA conversion stages with up to 32-bit/192 kHz resolution.
Compatible with all major audio software
Our UR-Cs are compatible with all major audio software supporting the ASIO, Core Audio or WDM standard, providing a fully integrated, DSP-based monitoring setup wherever you are and with whichever DAW you use. Integrating seamlessly with Cubase and almost any other DAW, UR-Cs deliver latency-free monitoring with DSP-powered FX, via the onboard SSP3 DSP chip and latest dspMixFx technology.
iOS ready via CC Mode
Combining UR-C units with an iOS audio application such as Steinberg's Cubasis for iPad, provides you with a fully mobile audio recording solution. All UR-C interfaces automatically switch to Class Compliant (CC) mode when connected to an iPad or iPhone and the UR22C and UR44C can even be bus powered by the USB-C equipped iPad Pro models. With Steinberg's Cubasis iPad app or other iOS audio apps, UR-Cs offer an effortlessly intuitive production experience on iPad or iPhone.
Loopback function for streaming
The Loopback function of the UR-Cs offers an easy way of streaming performances live to the Internet. Often used by hosts of live online broadcasts, when the function is active, incoming audio signals to the UR-C (such as microphone, guitar or line source) are merged with the signal coming from audio playback software like Cubase or another DAW inside the computer. The merged signal will then be sent back to the computer for online streaming via your software of choice. And with the onboard effects of the UR-Cs you can tweak your sound, for example adding some reverb when doing online karaoke.
ADVANTAGES OF USING THE UR22C RECORDING PACK
Get started recording your music with everything you need
The UR22C Recording Pack includes everything you need for recording and producing your songs in fantastic 32-bit/192 kHz quality. The compact, rugged UR22C audio interface has inputs for microphones and instruments, MIDI inputs and outputs, so every instrument or voice can be recorded in great quality. Listen while recording using latency-free monitoring with DSP effects while fast, reliable connectivity to computers or iOS devices lets you record and mix anywhere. The included high-quality condenser microphone, XLR cable, headphones and Cubase AI recording software make it the ideal recording package.
Create podcasts or ASMR productions with a complete package
Share your thoughts, inspiration, ideas and news with the world by recording podcasts for broadcast on any online medium, or write them to audio files for distribution or download. Record in your home or in any location, to computer or iOS device, with this great portable production package. And if you want to join the growing community of ASMR audio producers, the included high-quality microphone, D-PRE mic preamps and 32-bit/192 kHz recording quality mean you can capture every stimulating sound in the most exquisite detail.
Live stream your message and find new followers
Streaming is a great way to reach new audiences, as well as your existing followers, and the UR22C Recording Pack provides the ideal platform for you to go live online. The Loopback function lets you easily stream your content via Facebook Live or other platforms — whether it's music, talk, gaming instructions or any other kind of performance — and the included studio condenser microphone and flexible, high-quality inputs mean your audience will hear everything in superb quality.
Cubase AI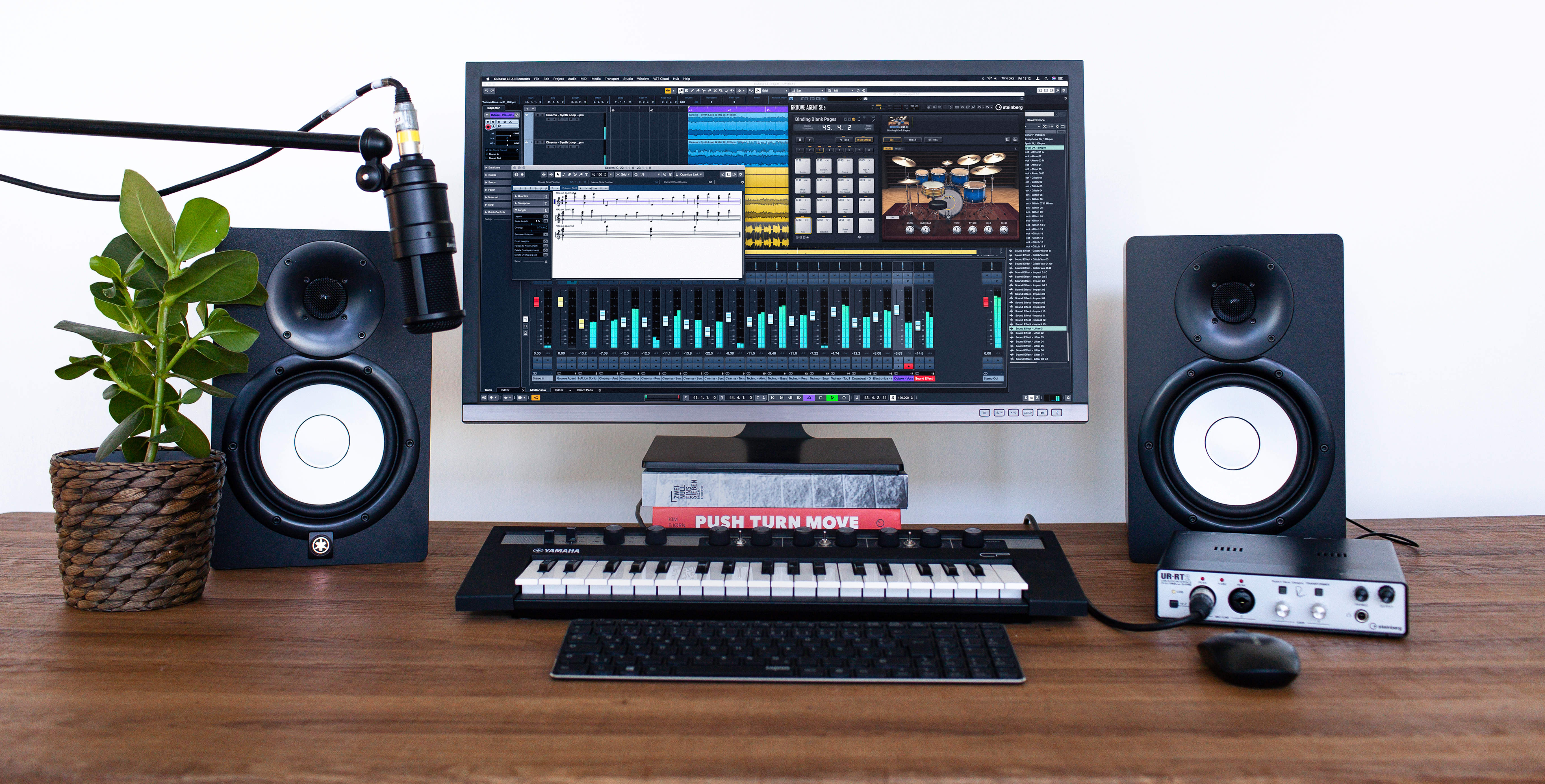 Based on Steinberg's award-winning advanced music production system Cubase Pro, Cubase AI is a powerful, one-stop music software solution for studio-quality recording. Combining audio and MIDI recording, editing, mixing and scoring in a single, integrated software package, Cubase AI is the perfect entry into the world of computer-based music production. Featuring Steinberg's advanced audio engine, flexible routing and full automatic delay compensation, it supports 48 MIDI, 16 instrument, 32 audio tracks and 16 physical inputs. Cubase AI comes with a range of high-quality audio effect processors, the HALion Sonic SE workstation instrument and MixConsole for a stellar mixing experience.
Cubasis LE
UR-C's seamless integration with iPad is enhanced by the inclusion of Cubasis LE, for creating professional music productions on your iPad. Featuring the same look and feel of its bigger brother Cubasis, Cubasis LE is especially designed for quick and easy operation, making recording, editing and mixing a breeze, as well as opening up a new world of possibilities for your creativity. It supports up to four audio and four MIDI tracks, features a mixer with studio-grade effects processors and also includes MicroSonic, a virtual instrument with 25 virtual instrument sounds, a virtual keyboard, sample editor and key editor.
dspMixFx mixing application
UR-C interfaces provide zero-latency monitoring with effects for every DAW, with straightforward control of all routings and settings, thanks to the built-in DSP chip and the dspMixFx UR-C software. Powered by Yamaha's custom-designed SSP3 DSP chip, dspMixFx technology offers latency-free monitoring, together with the highly acclaimed REV-X reverb, the Sweet Spot Morphing Channel Strip and Guitar Amp Classics for users of any DAW software. When using Cubase, all of the advanced monitoring capabilities are fully integrated into the application's GUI by True Integrated Monitoring technology, with users able to choose to control the monitoring capabilities from either Cubase or the dspMixFx application.
Included Effects
Bundled effects plug-in suite
The UR-Cs come with both VST 3 and AU versions of the onboard DSP plug-ins, providing additional useful sound-shaping and FX tools. The Basic FX Suite comprises three software components: REV-X reverb, Sweet Spot Morphing Channel Strip, and Guitar Amp Classics, all developed by Yamaha and incorporating modeling technology.
REV-X reverb
The REV-X built into UR-C interfaces is a complex reverb algorithm, renowned for its high-density, richly reverberant sound quality, with smooth attenuation, spread and depth that work together to enhance the original, dry sound. Featuring three types of reverb effect — Hall, Room and Plate simulations — all include reverb time and level controls. REV-X is a truly classic reverb effect, perfect for bringing a professional sheen to every recording.
Sweet Spot Morphing Channel Strip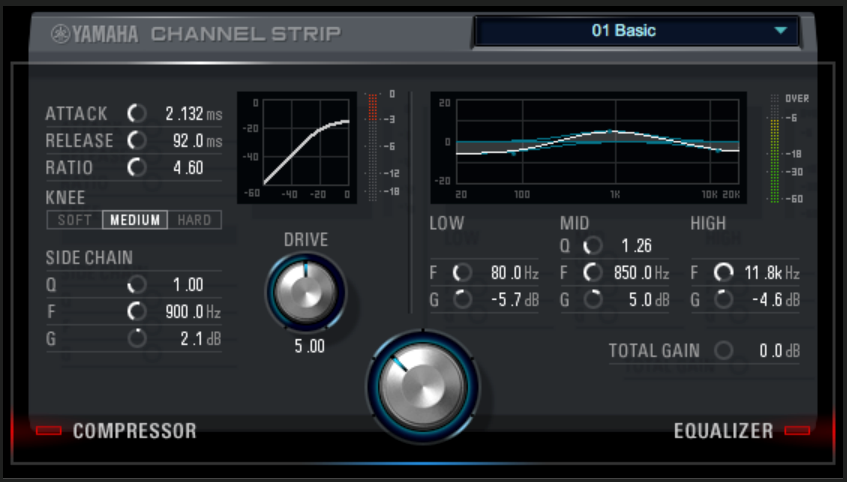 Developed to deliver a highly musical result, the Sweet Spot Morphing Channel Strip combines a sidechain-enabled compressor and a three-band parametric equalizer. As its name suggests, the Morph Knob allows you to morph through both EQ and compression settings in combination, letting you quickly dial in the ideal sound with a single control. Offering quick and easy setting of just the right combination of compression and EQ, the Sweet Spot Morphing Channel Strip brings the ideal amount of ear-friendly dynamics to your sound.
Guitar Amp Classics
Guitar Amp Classics are guitar amplifier effects that make extensive use of advanced Yamaha modeling technology, delivering highly realistic and finely tuned emulations of classic tube and transistor amplifier tones. Four amp types with different sonic characteristics are provided.
Clean
Optimized for clean tones, this amp effectively simulates the tight brilliance of transistor amplifiers. Also featuring built-in chorus and vibrato, the tonal character of this model provides an ideal sonic foundation for recording with multi-effects.
Crunch
This is the amp type to use when you want lightly overdriven crunch tones. It simulates the type of vintage tube amplifiers that are favored for classic blues, rock, soul, R'n'B and similar styles.
Drive
The DRIVE amp type provides a selection of distortion sounds that simulate the tonal character of high-gain tube amplifiers. From mildly overdriven crunch to heavy distortion suitable for hard rock, heavy metal, or hardcore styles, this model offers a wide range of sonic opportunities.[br] [/br]Six amplifier types are provided. Types 1 and 2 feature relatively mild distortion that allows picking nuances to naturally come. Types 3 and 4 have more pronounced overtones, resulting in a fat, soft tone. Types 5 and 6 deliver wild, aggressive distortion with a tight attack. The even-numbered amp types have greater presence and range than the odd-numbered types.
Lead
This amp type simulates a high gain tube amp that is rich in overtones. Ideally suited to playing lead guitar lines that will fit well within an ensemble mix, it can also be set up for crisp accompaniment tones, making it a very versatile emulation.
---
We Also Recommend