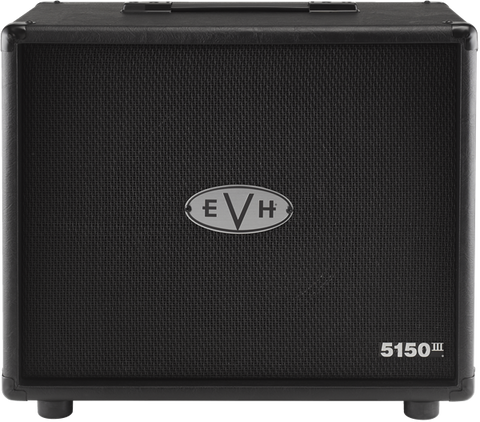 EVH 5150III® 112 ST Cabinet Black
Delivering pure EVH sound and power, the EVH 5150III® 1x12 straight-front speaker enclosure is the perfect companion to the 50-watt 6L6 head or 15-watt lunchbox heads.
With a thick textured Black covering with a silver EVH logo badge, the 1x12 cab features premium 7-ply 5/8" birch pine construction and is loaded with a renowned-sounding 12" Celestion® EVH G12H EVH 30W Anniversary Series speaker.
One - 1/4" input

30 Watts at 16 Ohms

7-Ply 5/8" Birch Plywood
SOLID & STURDY CONSTRUCTION
The 7-ply 5/8" birch pine construction does more than just safely house the appointments of this cabinet in a rock-solid enclosure. Pine delivers a pleasant yet distinguished top end with added bass notes.
PULSING WITH POWER
A single 12" Celestion EVH G12H 30W Anniversary Series speaker emits Eddie's unparalleled, renowned signature sound that can be heard on all classic Van Halen albums.
---
We Also Recommend