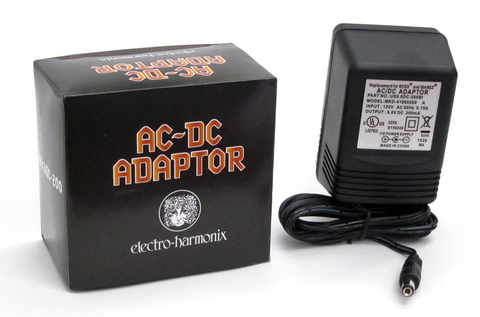 Electro-Harmonix EHX 9.6DC-200 AC-DC Adaptor
The Electro-Harmonix EHX9.6DC-200 is the player's choice of battery eliminator for many of the world's most popular effects pedals including EHX, Boss, MXR, Ibanez and others. It is a 9.6 Volt DC/200mA linearly regulated power supply with 2.1mm x 5.5mm center negative barrel plug. 
To check if your pedal uses the EHX9.6DC-200, just click on the manufacturer's brand and see if that model appears in the accompanying list most do.
 BRANDS
Analog Man
BBE Sound
Behringer
Boss
Dunlop
Electro-Harmonix
Fulltone
Guyatone
Ibanez
Keeley
Maxon
Rocktron
Seymour Duncan
Tech 21
Voodoo Lab
Vox
Z Vex
All trademarks and registered trademarks appearing in this page are the property of their respective owners.
---
We Also Recommend